Facebook reviews are essential for any local business since the majority of potential customers visit business pages to read reviews and check if other customers recommend them. Depending on the character of published reviews, potential customers decide whether to choose your business or go with your competitor.
It means that local business owners should pay more attention to their Facebook reviews and recommendations. Just imagine how powerful the positive reviews can be. It is a great opportunity to start selling to new customers with the help of existing, satisfied customers.
In this article, we will discuss how you can start collecting Facebook reviews and grow your business.
All you need to know about Facebook reviews
With roughly 2.93 billion monthly active users as of the first quarter of 2022, Facebook is the most used online social network worldwide. It is the second-largest review site on the Internet after Google which makes it a great platform to engage with potential customers. They can like, comment, and share genuine reviews.
Facebook had used the star rating for many years but in 2018 they switched to the binary system. Now customers have 2 options to rate a business: Recommend or Not Recommend.
Where to find the Facebook review link?
When sending review requests to your customers it is important to send them directly to the review page. Where to find your Facebook review link?
Go to your Facebook page
Go to the reviews tab
Copy the page URL from the address bar
How to gain more Facebook reviews?
Send review requests on the regular basis. The best practice is to send a review request on the same day or the next day after a customer's purchase. If a customer receives a review request a month after their purchase the chance they will leave a review is reduced.
Ask all of your customers for reviews. The more reviews you get published the better it is for your business's growth. Customers can share their valuable feedback about your business on Facebook or Google and you will get more visibility online.
Send review reminders. Sometimes customers can miss your review request or simply forget to leave a review. In this case, we recommend you send a review reminder to customers. It ensures a greater conversion rate and a higher chance to receive a Facebook review.
Respond to Facebook Reviews. Customers expect answers to their reviews. Show that you are ready to listen to them. If there is a positive review – thank a customer for sharing their experience. If there is a negative review – apologize for the unpleasant experience and try to resolve complaints.
Use a reputation management platform. With a reputation management platform, you can easily automate all the processes of generating reviews.
Try the Amazeful reputation management platform.
Amazeful makes all the processes of collecting reviews on any review website much easier and faster. With Amazeful you can automatically send review requests, set up automatic review replies, send review reminders and get insightful analytics on your reviews.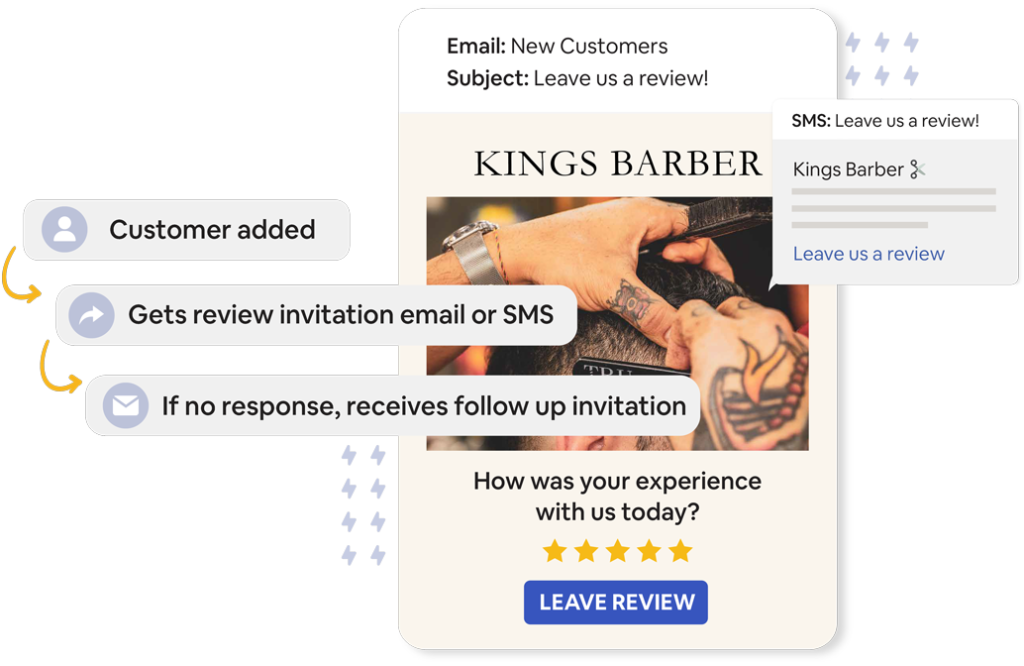 Grow your Facebook reviews effortlessly with Amazeful. Learn more how Amazeful can help you collect more reviews and grow your revenue faster https://amazeful.com/reviews/.
Start 7-day free trial.