Simplify the process of collecting reviews with Amazeful.
Amazeful is the ultimate solution for businesses aiming to boost their review collection efforts across all major platforms with a single request.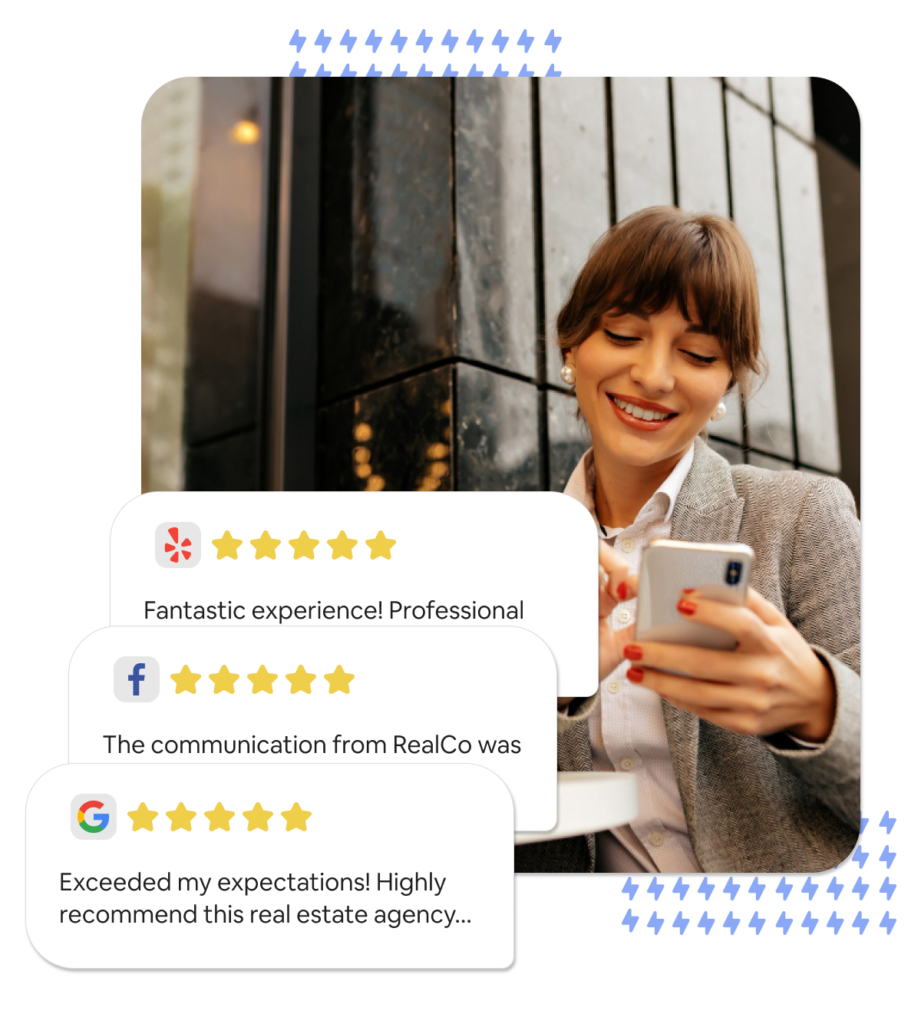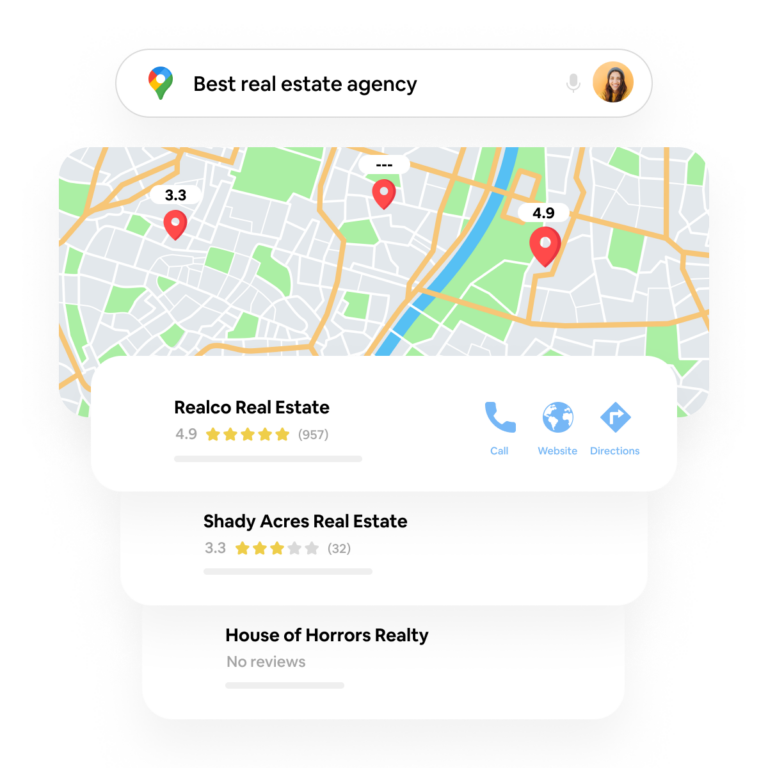 Become the #1 choice by leveraging reviews.
Being the first choice is crucial in today's competitive landscape, and reviews can significantly impact your business.
Reviews provide valuable social proof, influencing the perception of a company's products or services.
With Amazeful you will accelerate your online review collection, boost your reputation, and dominate your competition. Ultimately attracting more customers by becoming the top choice.
Make leaving reviews for your business a breeze.
Amazeful offers customers a seamless and hassle-free experience when it comes to leaving reviews.
Furthermore, Amazeful offers multiple channels for leaving reviews, including email, SMS text messages, QR codes, and more. Making it simple and convenient for customers to provide reviews using their preferred communication method.
Streamlining the review process encourages more customers to provide valuable feedback, helping businesses gain insights, improve their products or services, and build a strong online reputation.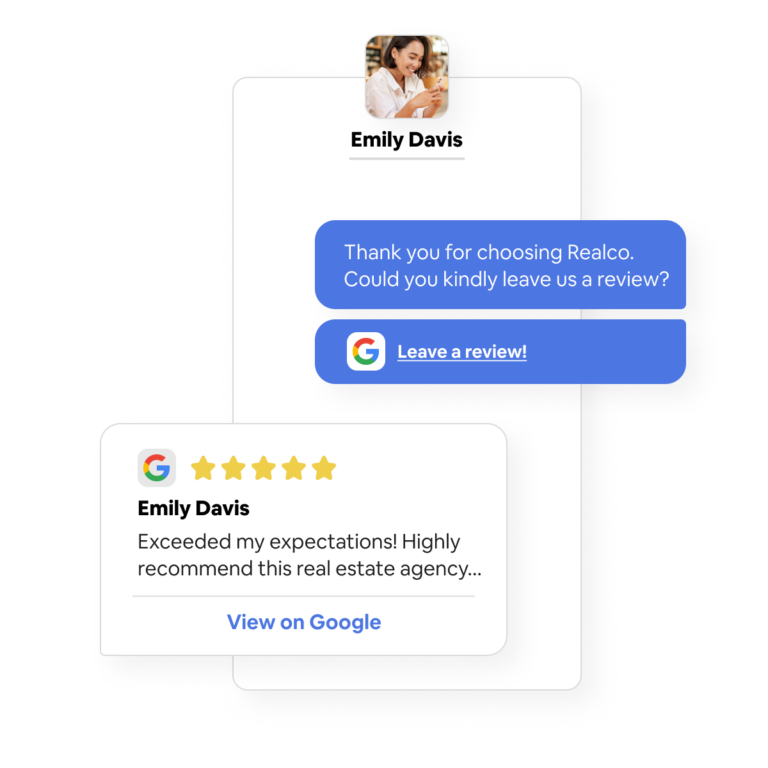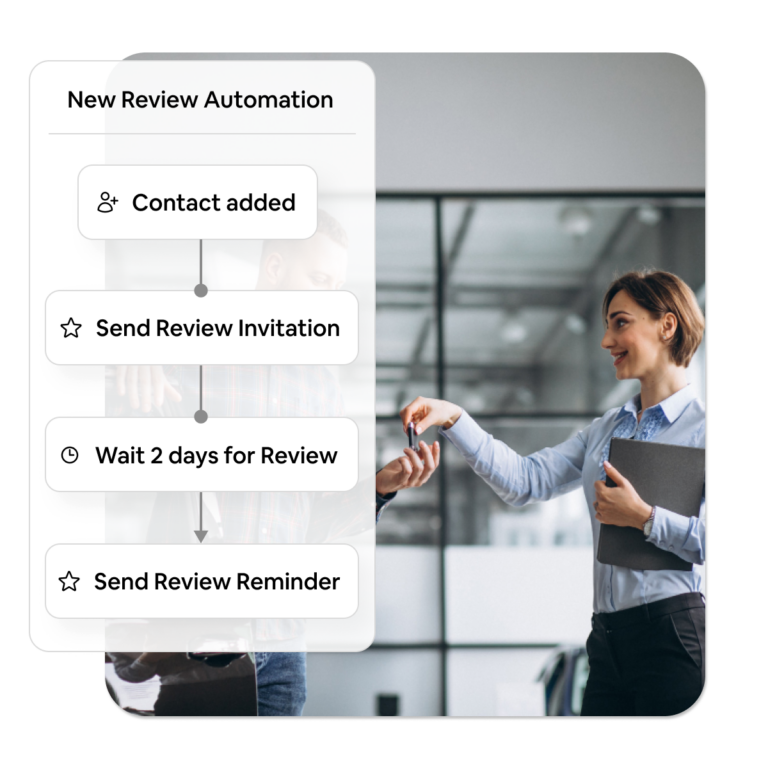 Empower your business with strategically timed automated reminders.
Amazeful implements strategically timed automated invitations, delivered through a mix of SMS text messages, emails, and more.
To ensure the highest conversion rate, we deploy timed reminders when applicable at strategically determined intervals.
This strategy ensures that your customers receive multiple opportunities to submit their review.
Start your 7-day free trial with Amazeful today.
Customizable review request templates to match your brand.
Amazeful offers a remarkable selection of templates and extensive customization options that allow you to create review invitations that are perfectly tailored to your brand.
With our intuitive editor, customizing these templates becomes a breeze, ensuring a seamless and efficient process.
You have the freedom to personalize the design, layout, and messaging to align with your brand identity. These templates can also include customer details, such as the first name or any custom fields you specify, to make the invitations more personal and effective.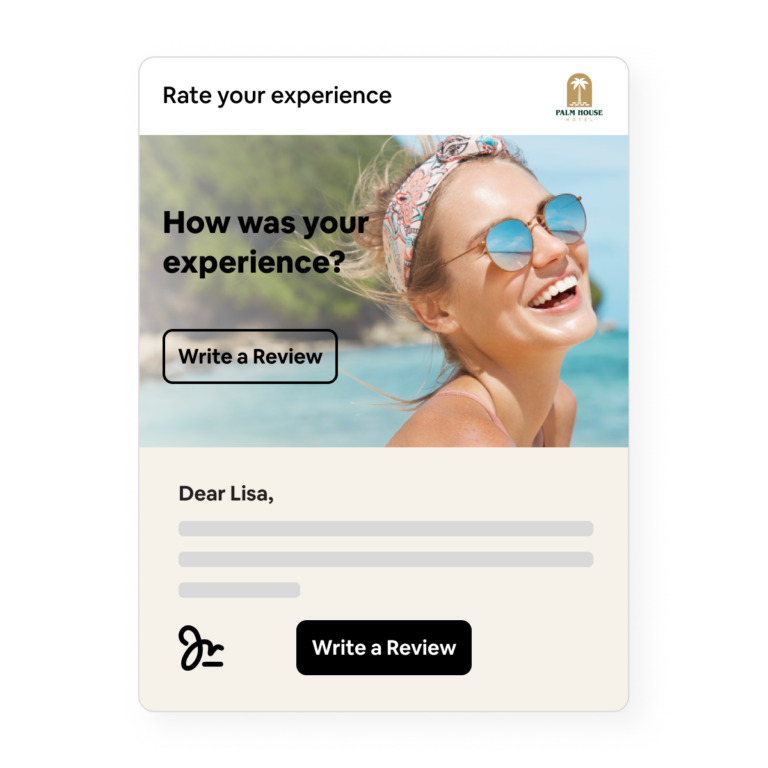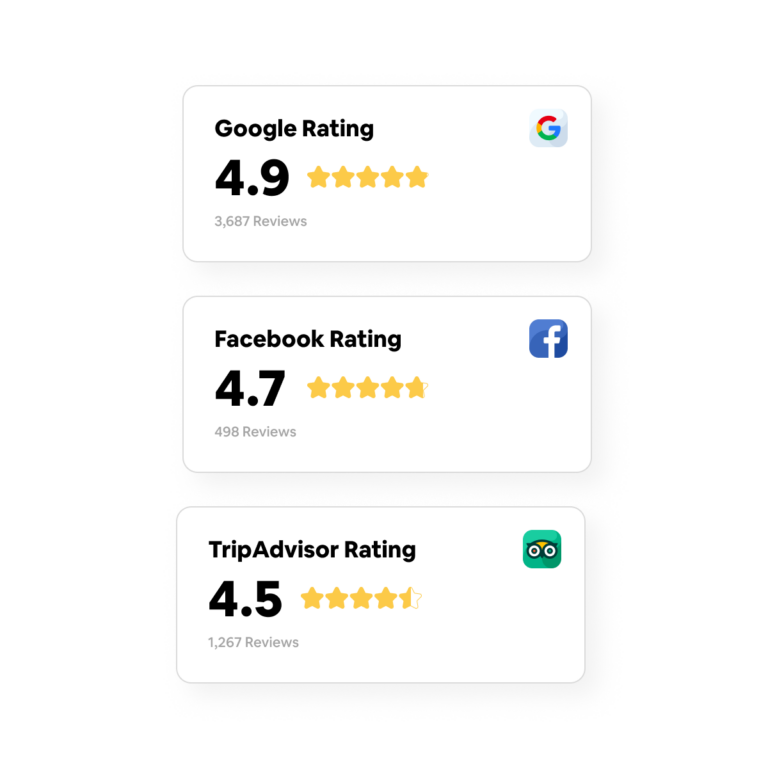 Get reviews on all the sites that matter.
Amazeful's platform offers customers the convenience of leaving reviews on all the major platforms that truly matter, such as Google, Facebook, Trustpilot, Yelp, and many other industry-specific websites.
By providing a broad selection of sites to choose from, Amazeful ensures businesses can leverage customer reviews across various platforms.
This flexibility empowers businesses to reach a wider audience and maximize their online presence.
Enhance Review Replies with
AI-Powered Responses
Atlas, the AI-powered assistant from Amazeful, simplifies the process of composing review replies for businesses.
By analyzing the sentiment and content of reviews, Atlas generates personalized responses, saving businesses valuable time and effort.
Replying to reviews demonstrates a commitment to customer satisfaction and fosters trust, leading to potential repeat business and referrals.
With Atlas, businesses can efficiently manage their review responses while enjoying the benefits of active customer engagement.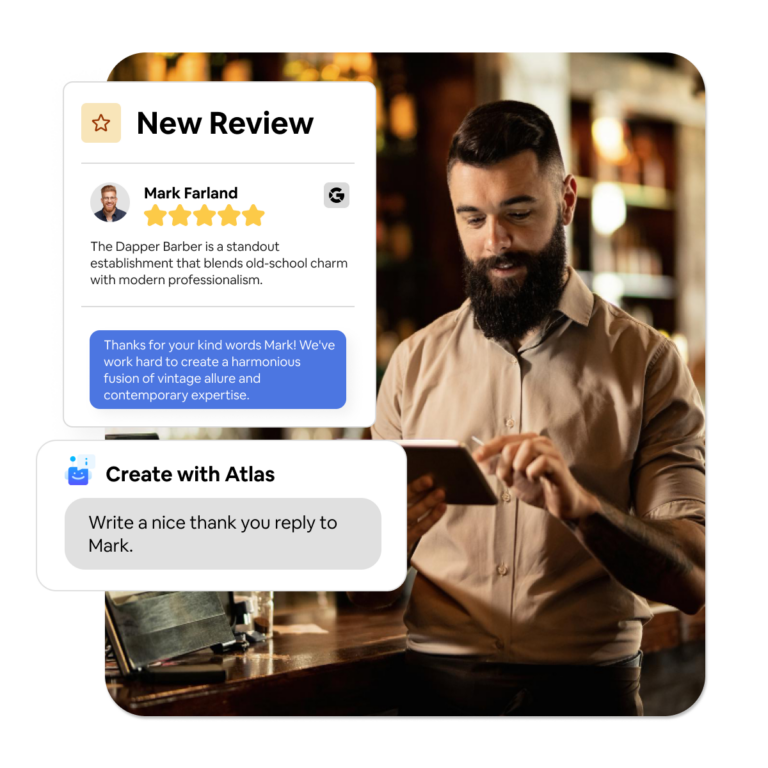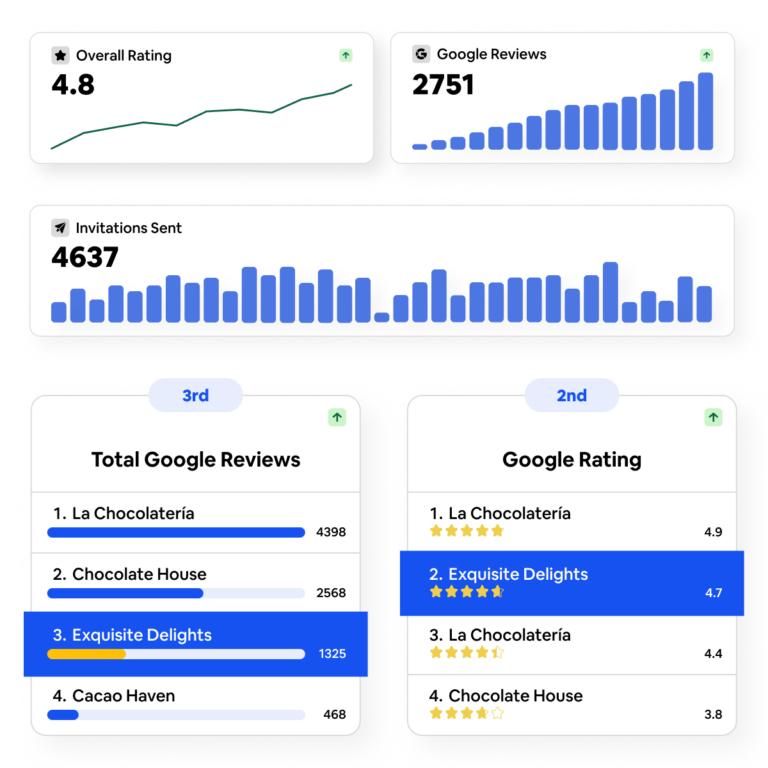 Monitor your reputation and gain insights through competitor benchmark analysis.
With Amazeful, you can set and achieve goals by leveraging our comprehensive reporting, thereby gaining a deeper understanding of your online reputation.
Monitor your competition with our live competitor analysis report. This report gauges how you measure up to your competition and provides detailed insights on how you can surpass your competitors in reviews and ratings to secure a dominant position.
QR codes provide a user-friendly solution for capturing reviews from customers, allowing them to easily share their feedback whether they are in-store or on-the-go.
Amazeful's bulk import and send feature streamlines the review collection process by allowing for efficient and timely outreach to multiple customers at once.
Amazeful enables a business to analyze multiple competitors' Google rankings and review counts, providing valuable insights that help to stay informed and competitive.
Amazeful's review widgets help businesses to strategically showcase their best customer feedback across their website, highlighting valuable reviews in areas that matter most.
Amazeful excels in addressing customer feedback promptly by delivering immediate notifications to businesses whenever new reviews are received.
Amazeful safeguards the online reputation of businesses by effectively managing and addressing customer feedback, ensuring a positive representation of their brand.
Start your 7-day free trial with Amazeful today.
Join 10,000+ happy businesses.
Who have improved their online reputation, sales and yearly profits.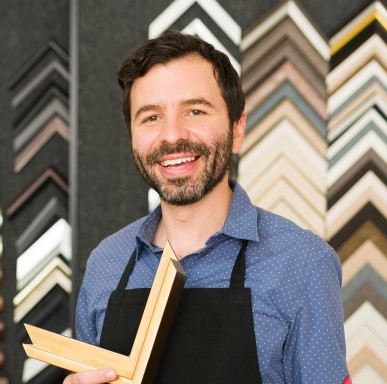 Since we started using Amazeful, our team spends less time chasing reviews and more time improving our business. It's been a game-changer for us!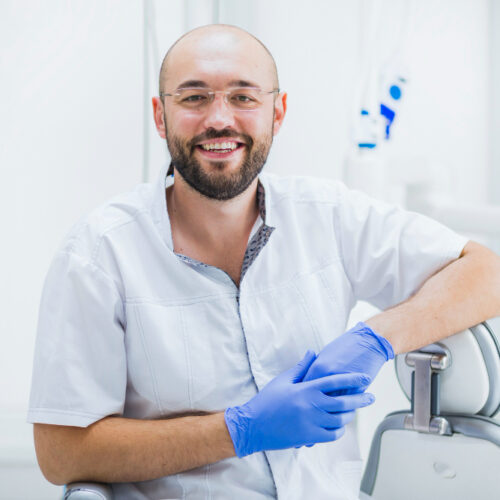 WebChat has been a breakthrough in our customer service allowing us to provide real-time support and create more personal, positive experiences for customers.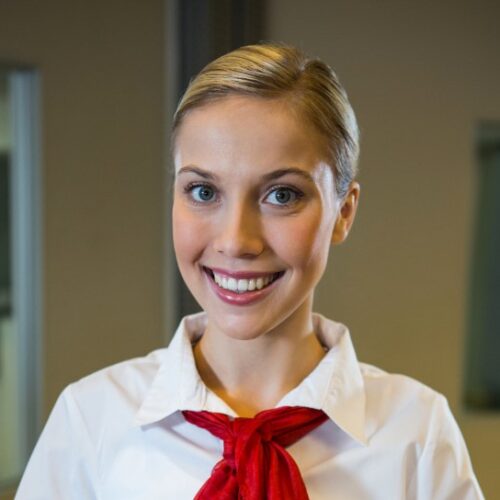 Switching to SMS marketing from traditional email campaigns was the best decision we made. It's allowed us to reach our customers instantly, with higher open and response rates.
Increased
Marketing Conversions
Amazeful integrates with your current software.
With more than 5,000 software integrations, Amazeful makes it easy to sync your customers for reviews, messaging and more.







Everything you need to grow.
Amazeful includes all of the tools you need for your
marketing, messaging, reputation, and more.
Start your 7-day free trial with Amazeful today.