Your business reputation will never improve if you don't work on generating more online reviews. They can boost your local SEO, increase credibility in your business and get more revenue. People always turn to reviews to claim the quality of the services or products. Shop reviews, restaurant ratings, movie reviews, hotel reviews – the list can be endless. It is essential for us because we want to ensure we choose the best quality on the market. For this reason, online reviews should be an essential part of your marketing strategy. 
This article will be helpful for you if you are:
A business owner looking for ways to grow business and increase revenue
A service provider or agency looking for ways to provide online reputation services for your clients
So, how to collect customer reviews?
The majority of articles suggest simply asking your current customers to leave a review. It sounds easy, but based on our clients' feedback, businesses don't regularly ask for reviews because doing it manually and asking each client for review is time-consuming and challenging.
The key for efficient review generation is making it comfortable, easy, and quick both for you and your customers. You can achieve this with Amazeful, a reputation management platform that automates the entire process of gaining customer reviews.
How can Amazeful help you collect customer testimonials?
The Amazeful platform makes the process as easy as possible with the help of automation
Amazeful integrates with your CRM or website to sync your customer database and start sending automated review requests right away. You can select when and how the review request will be sent to your client. It can be sent immediately (once a new customer appears in the database) or in a few hours. Sometimes clients can miss your review requests because of tens of emails and SMS they get every day. In this case, you can send a follow-up invitation and remind a client about yourself in a friendly way.
This process is simple, easy to set up, and beneficial for any business.
You use the magic of automation and don't waste time asking the customer to leave a review manually
It increases the number of new reviews posted each month. Your business will grow and get more revenue
Review reminders ensure a higher chance to get more 5-star reviews for your business
It's an excellent solution for business owners and marketing agencies who want to grow their clients' businesses.  Amazeful also provides white-label online reputation services. You can manage all of your clients from one powerful, white-labeled dashboard branded with your company name and logo. Check the details of our reputation management reseller program here.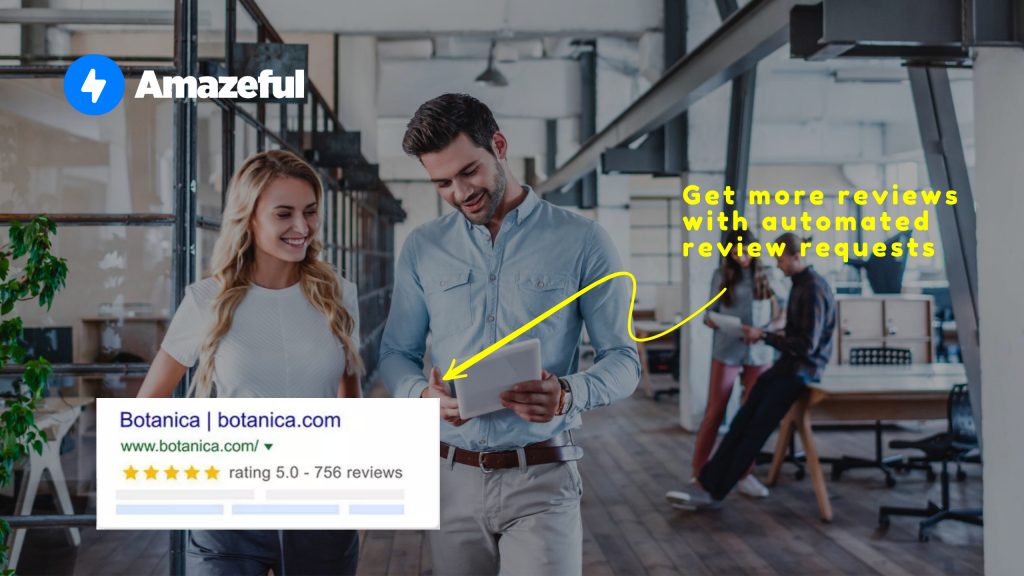 Amazeful integrates with sites that are important for your business
When it comes to reviews, the platform where they are posted matters. Amazeful integrates with tens of review websites that your potential customers regularly visit to check your business reputation. You can choose where to send customers to leave a review when you set up follow-up automation.
The most popular place for posting reviews is Google. It has 86.9 billion total monthly visits. So having automated google reviews posted means more potential clients will choose your business.
Having more reviews has other benefits, such as a higher ranking for local SEO, a big credibility boost, and better online exposure.
Amazeful integrates both with review sites and social media platforms. Working on Facebook reputation management has huge benefits for your business:
Boost credibility
Increase organic reach
Get new clients with the power of positive reviews
 With the help of Amazeful, you can post reviews on the most popular social media platform and build transparent communication with existing and new clients. 
Conclusion
Having a regular flow of fresh online reviews gives you a huge advantage and helps you be ahead of your competitors. However, it is almost impossible to do it effectively without an automation solution.
Amazeful can do this work for you and manage all the stages of review generation. Using Amazeful streamlined review request process, you will follow up all your customers and get the reviews your business needs.
Check the effectiveness of Amazeful reputation management today – Click here for our latest specials.